Green Tea Rice at YY Famous Dumplings
2 min read
* NON – HALAL
Sometimes, its really hard to think when someone asked me to eat. Rachel has been bugging me for a new food place. The thing of going for food for 2 is never easy.
One fine day where I was at Pandan area, I remembered of a dumpling place at Pandan Jaya. Basically I was told about the expensive dumpling they have. Without any directions or such, we tried our luck and we found the shop…. I'm a genius ain't I…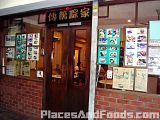 Its more like a tea house to a restaurant to me. They served lots of Hakka foods. Well, we ordered something different. Hakka Yam Abacus… They stir fried… Its quite good…


Golden Chang (dumpling) – Roasted Pork, Roasted Chic, Salted Eggs, Sausages, Dried Oysters, Chestnuts, Mushroom + Rice…. RM 8.50 for this little monster…
Their most expensive dumpling is around RM 238… weighing 2 kg and orders must be made in advance. They called it Multi Flavour Abalone King Bah Cang…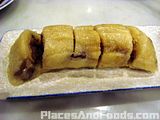 The fillings…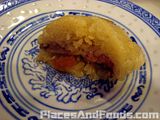 Let me show the process of green tea rice…
First, they give you a pot of green tea…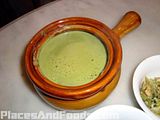 The rice and the small little things such as peanuts and vege…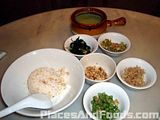 Mixed it all together… like "rojak"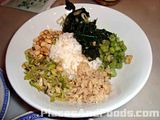 Pour the green tea and its ready to "consume"….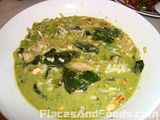 I find that green tea rice was not my taste. Well, sometimes food like this is very subjective. It's something that we never taste before so it will gave us the surprise element. To be easy, its not my cup of tea. Food was fairly okay and price we paid was around RM 4x plus the drinks.
Address: