De Maw Restaurant, Jalan Pudu Ulu Cheras
3 min read
De Maw Restaurant, Jalan Pudu Ulu Cheras
De Maw Restaurant has been around for some time, at least for fifteen years. Located on the corner shop lot next to PGRM building in Jalan Pudu Ulu, the restaurant is popular with its unique Chinese cuisine. They are usually packed during peak hours so it is better you book a table. The food here has been very consistently good thanks to their award winning chef/owner.
We haven't been visiting the restaurant for years but on our recent visit, the restaurant is still the same with its Chinese theme interior and décor.
Their menu didn't change that much over the years, most of their signature dishes are still available such as deep fried garoupa with shredded apple, traditional pork ribs with rice cake and marmite prawns. We were there for lunch by the way.
The feast started with Traditional Fried "Hea Gor" or better known as stir fried 'mantis prawn'. This mantis prawn is stir fried to crispiness with chopped capsicum, onions and dried chilli. We always enjoyed this dish when it is cooked right, flavourful with hints of spiciness from the dried chili.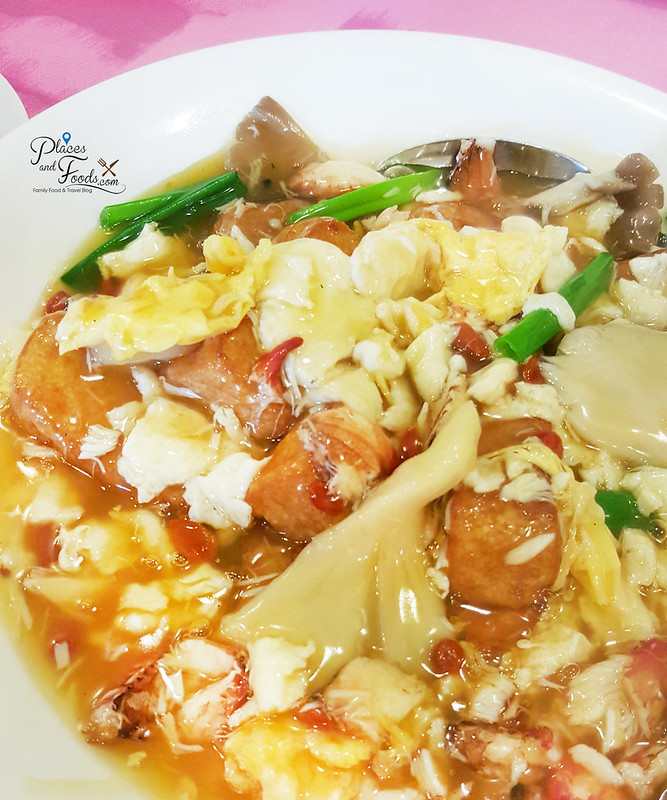 Bean curd – cooked hometown style. What can we say? It comes with generous amounts of mushrooms, crab meats with sauce mixed with eggs. This really goes well with the rice. We love the flavour of the sauce and also the texture of the bean curd.
Baby Kailan – Teochew style. Their version of stir fried Kailan Teochew style comes with minced meat and mushroom.
Sea White Prawns with Marmite Sauce. This probably one of the best places to have prawns with marmite sauce. The prawns are deep fried to perfection, the shell is so crunchy you can actually eat it and stir fried covered with the sweet marmite sauce. We enjoyed the freshness of the prawns and also the savoury marmite sauce. Gorgeous!
Traditional Pork Ribs with Rice Cake. This is one of their signature dishes and also notice the rice cakes, not many restaurants are offering this dish. The ribs are cooked to perfection, the flavour is good and this goes well with the rice.
Lastly, the deep fried garoupa with shredded apple. The fish is deep fried to perfection even though it looks slightly brownish in the picture. The texture of the fish is still moist and the sauce is sweet and spicy. The shredded apple added some refreshing texture onto this dish.
The lunch didn't disappoint us as expected. The food in De Maw Restaurant is still good and the quality is still maintained. Please take note that the waiting is long when the restaurant is packed but you can wait with a pot of hot Chinese tea. We heard many people complained about how pricey the food is in De Maw Restaurant but when you look at their menu, it is not that bad at all. In fact, we felt it is cheaper than most restaurants in the mall now. Like we mentioned earlier, please book your table in advance or take the risk if you plan to walk in. De Maw Restaurant is always top on our list and highly recommended. Do comment if you have questions or feedbacks. Thank you
De Maw Restaurant Address and Contact:
18, Jalan Pudu Hulu, Taman Pertama, 55300 Kuala Lumpur, Wilayah Persekutuan Kuala Lumpur, Malaysia
Phone: +60 3-9285 7833